Biggest fall in house prices since October 2008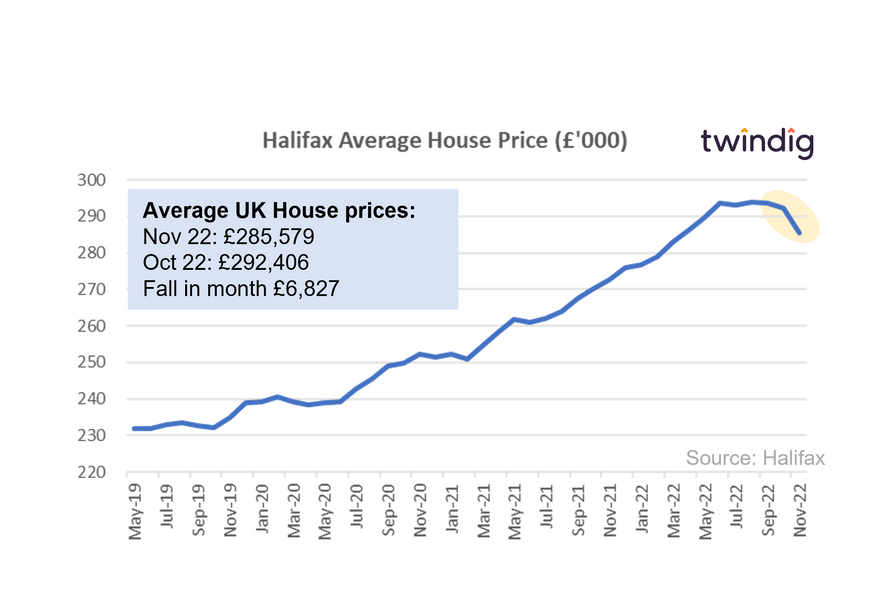 The Halifax released its house price index for November today
What the Halifax said
Average house price £285,579
House prices fell by 2.3% or £6,827 in November
Annual house price inflation 4.7%
Twindig Take
The fall in house prices in November is the largest since October 2008 and the third consecutive monthly fall. As we enter the Christmas party season, it seems that the house price party is well and truly over.

However, context is needed, over the last 12 months, house prices have risen by more than £12,000 and are still more than £45,000 higher than they were before the start of the first COVID-19 pandemic lockdown. House prices are falling, but only after a period of unprecedented house price growth, fuelled by a stamp duty holiday we may live to regret.

The housing market headwinds (rising mortgage rates and increasing living costs) have now caught up with house prices and across the country, annual house price inflation fell in all regions apart from the North East, which is now the only area with double-digit house price inflation.

The outlook for house prices remains uncertain. This is the biggest fall in house prices since October 2008, but we do not expect to see house prices fall as much as they did during the Global Financial Crisis. Looking forward the challenge remains underlying inflation. The Bank of England is raising interest rates to control inflation, but wage rises allow homebuyers to borrow more and spend more on their homes. Historically house price inflation has exceeded the underlying rate of inflation.

In the coming months we believe that whilst house prices may be more choppy than they have been of late, they won't collapse.
Subscribe to Market Views