House prices rise for 11th month in a row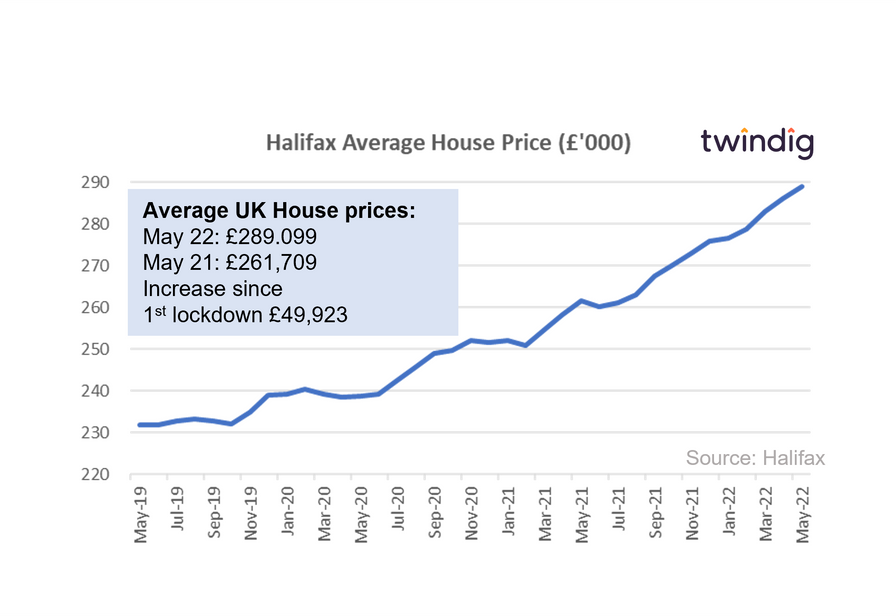 The Halifax released their House Price Index for May 2022 today
What the Halifax said
Average house price £289.099
House prices increased by 1.0% in May
Annual house price inflation 10.5%
Twindig take
House prices rise for the eleventh month in a row, but has the race for space made climbing up the property ladder more difficult than getting on it? Detached house prices have risen by £50,000 in the last year which is five times greater than the increase in the price of flats, will those lucky enough to get on the housing ladder become stuck on the bottom rung?
May marks the eleventh consecutive monthly rise for the Halifax House Price Index, average house prices have risen by £27,390 over the last year or by £2,283 per month as house prices hit a new high in May 2022.
The imbalance of demand for homes to buy and the supply of homes being sold continues to outweigh the financial pressures of mortgage rate rises and cost of living increases.
The race for space appears to still be in full swing as the average prices of flats have risen by around £10,000 in the last year compared to £50,000 for detached homes. These changes will frustrate second steppers as it means that not only is it hard to get on to the housing ladder, it is increasingly more difficult to move up the ladder once you are on it.
The Halifax believes that the housing market has begun to see signs of cooling reporting that activity in the mortgage market has started to wane. The days of the housing market being purely a seller's market may therefore be numbered.

We suspect that housing market activity (the number of housing transactions) will slow more than house prices may fall in the coming months, and we still expect house price inflation to remain positive in 2022.
Subscribe to Market Views