Halifax First Time Buyer Review 2022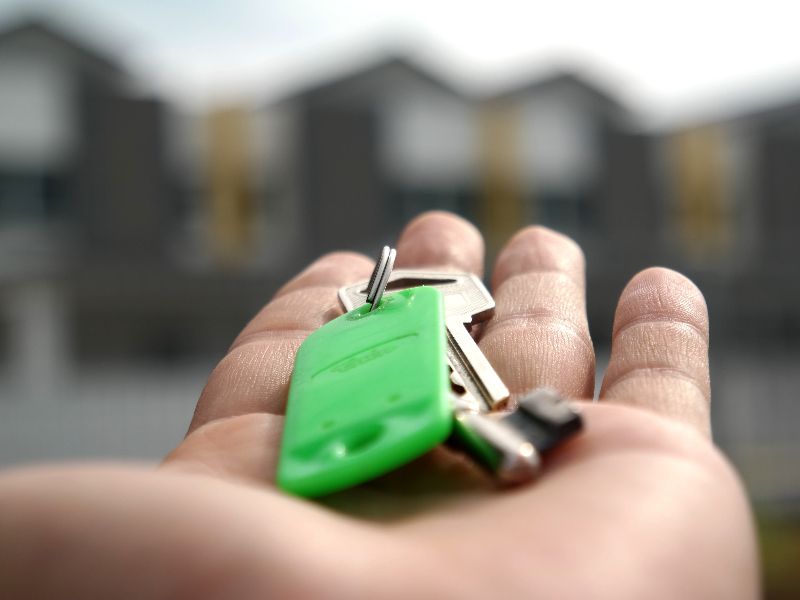 The Halifax published its First Time Buyer review of 2022 this week
What the Halifax said
Number of First-time-buyers higher than pre-pandemic levels, but 11% down on 2021's record high
Joint First-time buyers now account for 63% of mortgage completions
First-time-buyers average deposit now £62,470, up 8% on 2021
Twindig take
Robust First-Time-Buyer Market in 2022
The First-time-buyer market was surprisingly robust in 2022, although the number of first-time-buyers was lower than it was in 2021, it was the next highest year since 2006. This is a very strong result given the active debate raging about housing affordability and the plight of the (perhaps not so) lesser spotted first-time-buyer.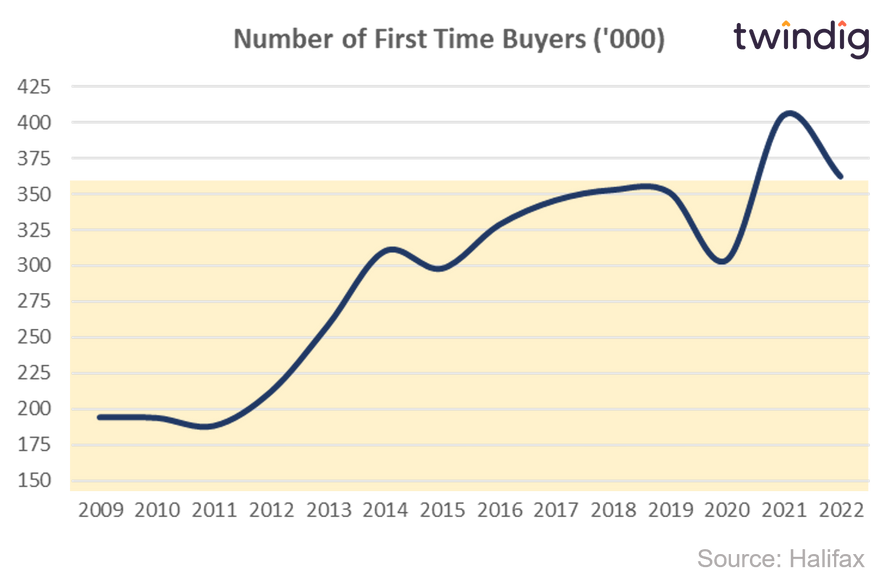 Perhaps even more interesting than the number of first-time buyers is the fact that the market share of first-time-buyer transactions rose in 2022. The dip in 2020 is understandable as lockdowns took hold and the story of 2021 was one of stamp duty holidays which played more into the hands of home movers than those of first-time-buyers.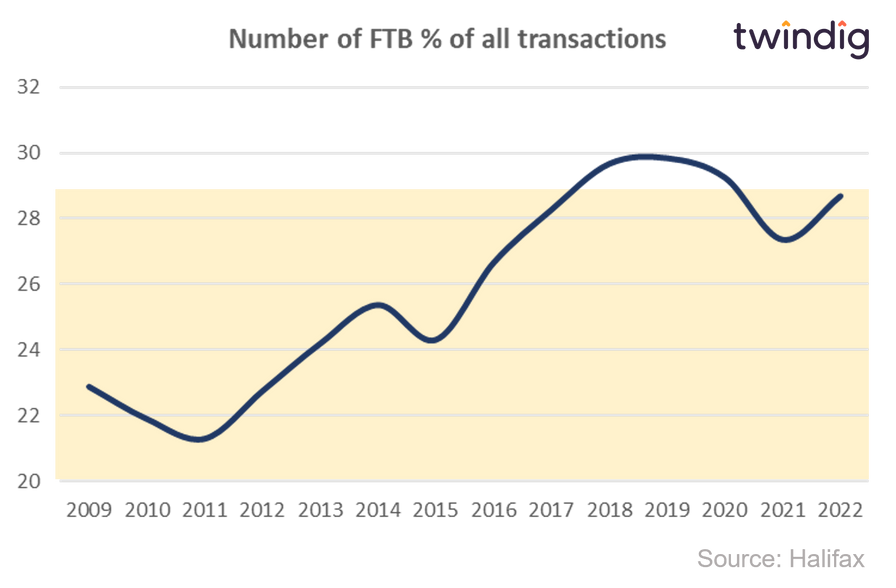 Following on from the growth in market share of transactions, 2022 also saw First-time-buyers, for the first time, become the majority player in the mortgage market with a market share of 52%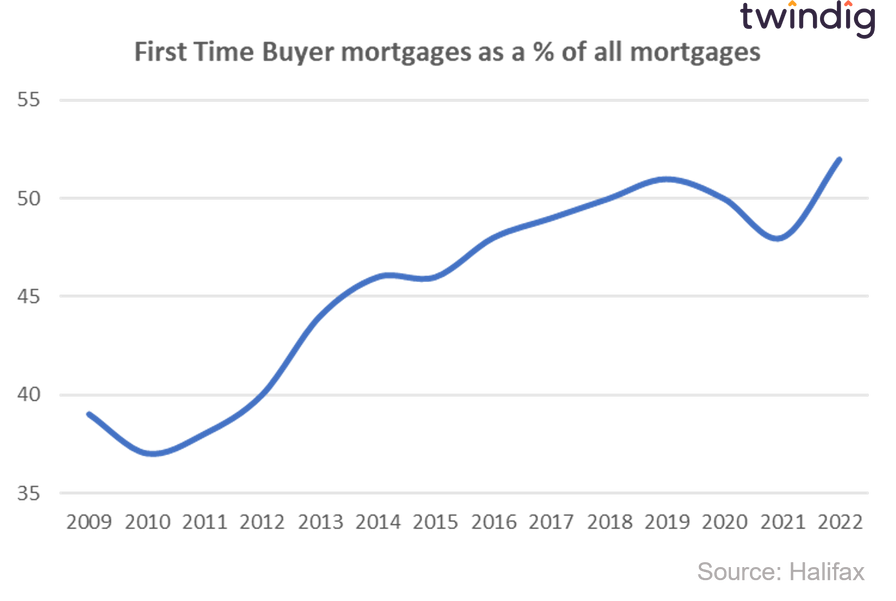 Headwinds or tailwinds for First-time buyers in 2023?
The case for headwinds
The received wisdom, and our own view, is that 2023 will be a tougher year for the housing market than 2022. There is nothing like the expectation of falling house prices to dampen the spirits of homeowners and home sellers.

The mortgage market is also mindful of softening house prices and is less eager to lend at higher Loan-to-value ratios (LTVs) than they were this time last year. Mortgage lending criteria is also being tightened making it harder for all, and in particular for first-time buyers to secure a mortgage.
The underlying tide for mortgage rates is still rising. Yes we appreciate that they are down from their post-mini budget highs, but we still expect Bank Rate to rise in the first half of the year and the latest Bank of England Credit Conditions Survey reported that lenders expect mortgage spreads to widen in the coming three months, and wider spreads imply higher mortgage rates to come.
Who sells in a falling market? Would you sell your home this year if you thought house prices were falling? One might say yes, get on with it before they fall, but will buyers not anticipate that and try to chip away at your asking price?
Will we see a first-time buyer strike? If a buyer thinks house prices are falling won't they just sit on the sidelines until prices have stopped falling?
We are still in a cost-of-living crisis, living costs are still rising, homebuyers, therefore, have less money to spend on a mortgage and may not want to commit to a 25 or 30-year mortgage whilst living costs are still rising at quite a pace
The case for tailwinds
House prices are falling and therefore first-time buyers are getting more bang for their buck, housing affordability is therefore improving.
Falling house prices open up the housing market to more potential homebuyers, and if there are more potential buyers there are potentially more transactions to complete.
Inflation appears to have peaked. Inflation is still high, but it is on the way down and we expect it to fall significantly during the course of 2023.
The good news for homebuyers is that the Bank of England is currently raising interest rates to combat high inflation. If inflation is falling, interest rates do not need to be so high. It is our view therefore that mortgage rates will start to fall in the second half of 2023.
If we combine falling inflation, falling mortgage rates and falling house prices, suddenly the outlook for first-time buyers starts to look more upbeat than downbeat.
Twindig headwind/tailwind prediction
Putting our necks on the line, we expect to see first-time buyer headwinds in the first half and tailwinds in the second half. So maybe use the first half to firm up your financial position and build your deposit so that you are ready to set sail once the direction of the wind changes.
First-time buyer house prices
The average first-time buyer's house price rose by 13% in 2022 to £302,000 and prices rose across every region in the UK the biggest rise is in the North West up15% to £175,000 and the smallest increase was in Greater London up by 9.8% to £519,000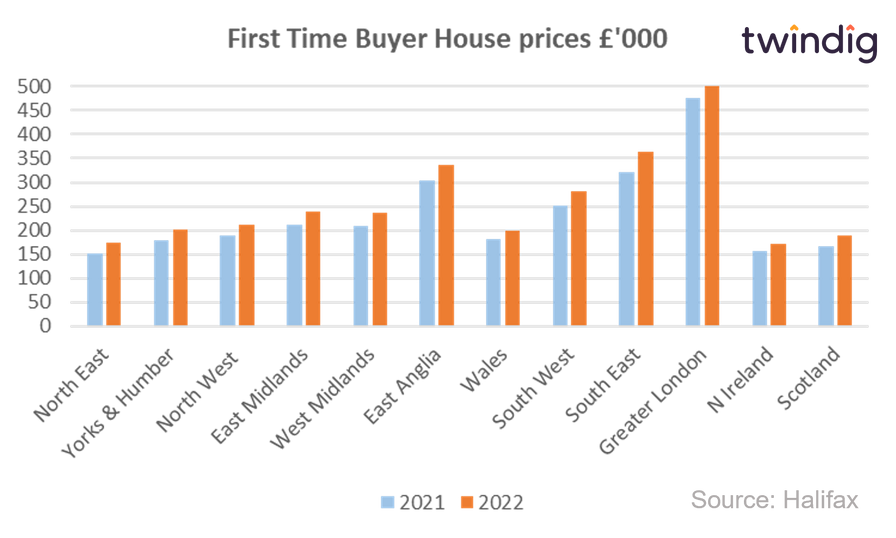 First-Time Buyer Deposits
The average first-time buyer deposit also increased during 2022 up by 8% from £57,883 to £62,470. Not surprisingly given the spread of house prices the biggest deposit is in London £125,378 and the smallest in the North East although it still tops thirty thousand pounds, coming in at £30,198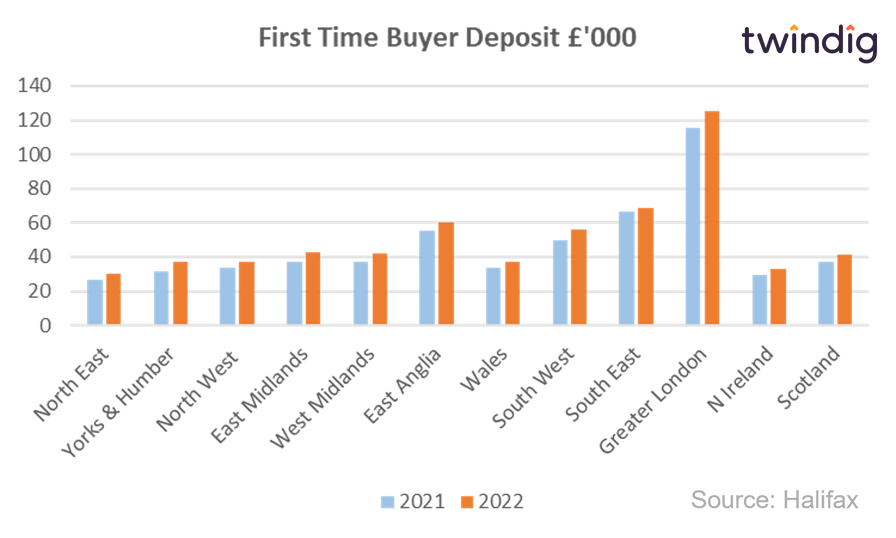 Most affordable areas for First Time Buyers
We show in the table below the most affordable areas in 2022 for First Time Buyers based on the classic measure of the House Price Earnings Ratio. This simple measure takes the house price and divides it by average incomes in that. The ratio shows how many years of gross salary (before tax) are needed to buy the home.
Scotland sweeps the leaderboard taking six of the top ten positions from West Dunbartonshire in first place to Clackmannanshire in 8th place.
The North West has three of the most affordable areas for first-time buyers (Copeland, Hyndburn and Barrow-in-Furness) and Wales takes tenth spot with Blaenau Gwent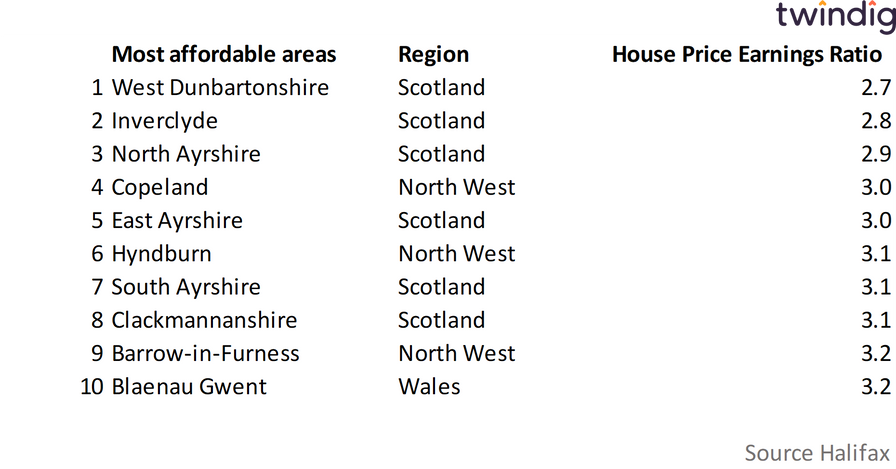 Least affordable areas for First Time Buyers
The table below shows the least affordable places for first-time buyers to live, whilst Scotland took the most honours when it came to affordability, London heads the list of the least affordable places taking eight of the ten top spots trumps this list. The only other areas to get a look in are Hertsmere and Oxford in the South East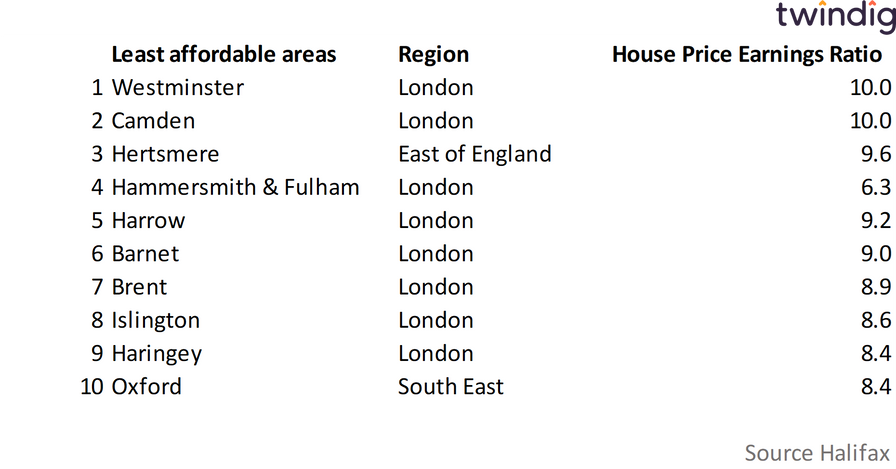 Subscribe to Market Views