Could COVID have more crunch than the credit crunch?
If a picture speaks a thousand words then the next graph is Homer's Iliad, summarising in one image the devastating impact of COVID on the UK housing market. The housing market may be open, but mortgage approvals have never been so low and a mortgage approval today is the best lead indicator of housing transactions tomorrow.
If you only look at one housing market indicator, look at mortgage approvals.
In my view mortgage approvals was always the most important housing market indicator, is the most important housing market indicator today and will always be the most important housing market indicator. Why? For the simple reason that a mortgage approval today typically leads to a housing transaction in three months.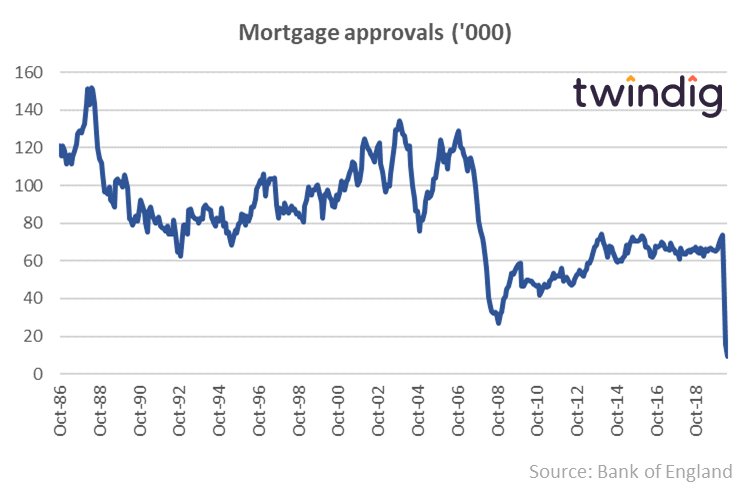 The graph below shows housing transactions lagged by 3 months behind mortgage approvals.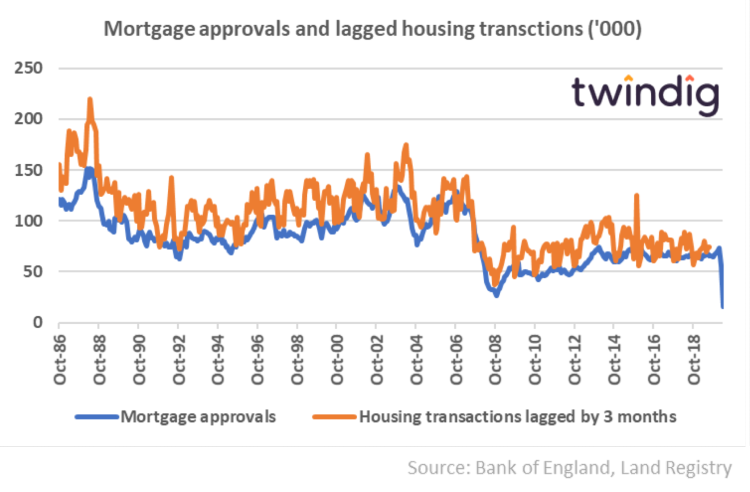 Housing transaction outlook is bleak
As illustrated above housing transactions are rarely out of step with mortgage approvals and the sheer speed and scale of the fall in mortgage approvals in May 2020 raises the possibility that the traditional autumn selling season will not be seen in 2020. Falling demand for houses is also likely to set the scene for the direction of house prices for the remainder of 2020.
Will second home buyers give the housing market a second wind?
You will have noticed that the level of housing transactions is higher than mortgage approvals. This gap represents cash buyers. Cash buyers were very active before the last stamp duty change (when second homes became subject to a higher level of stamp duty) as illustrated by the spike in March 2016 (but lagged by 3 months in the graph)
Cash (and second home) buyers are much nimbler than those purchasing with a mortgage, suggesting that the majority of cash purchases are discretionary. Cash buyers rise when the market gets hot but fall very quickly when the market cools. As a group they do not appear to anticipate market turning points, but once the market has 'turned' they are very quick to change their behaviour and either step on or off the gas. They are the ones most likely to snap up the best bargains as green shoots of recovery begin to surface.
I doubt that cash buyers will give the UK housing market a second wind, but once the wind changes direction they are quick to let you know.
Subscribe to Market Views