Average mortgage rates rise again in April 22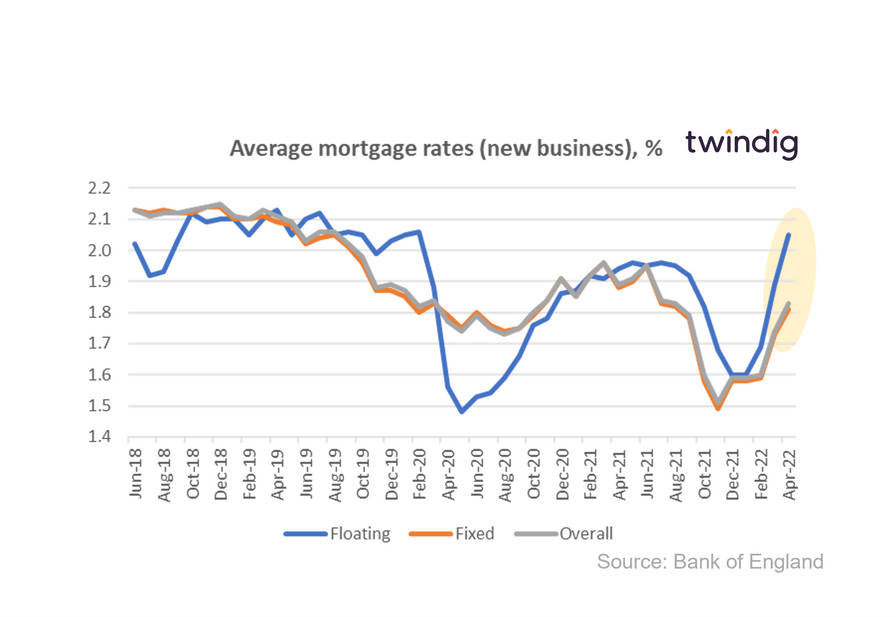 The latest data from the Bank of England revealed that overall average mortgage rates for new business increased significantly in April 2022.
What they said
The average floating mortgage rate for new business 2.05%
The average fixed mortgage rate for new business 1.81%
The average overall mortgage rate for new business 1.83%
Twindig take
The graph above showing average mortgage rates suggests that the period of ultra-low mortgage rates is coming to an end.
Average mortgage rates increased by 5.2% to 1.83% in May, up from 1.74%. Floating rate mortgage rates increased by 8.5% to 2.05% the first time they have been above 2.0% since February 2020.
Fixed-rate mortgages increased by a more modest 4.6% to 1.81%up from 1.74% in April.
Whilst mortgage rates are indeed on the rise, the average mortgage rate for a fixed-rate mortgage is still 3.7% below its level one year ago.
There is still time to arrange a mortgage with a low mortgage rate and those in the re-mortgaging window would do well to act sooner rather than later, in our view.
We don't yet know how high mortgage rates will go, but most mortgage rates are linked to the underlying Bank Rate (or linked at the time they were fixed), we, therefore, expect further rises in the months to come and we expect that Bank Rate will increase to 2.0% before the year is out.
Subscribe to Market Views