RICS residential survey August 2021 - Prices up Supply down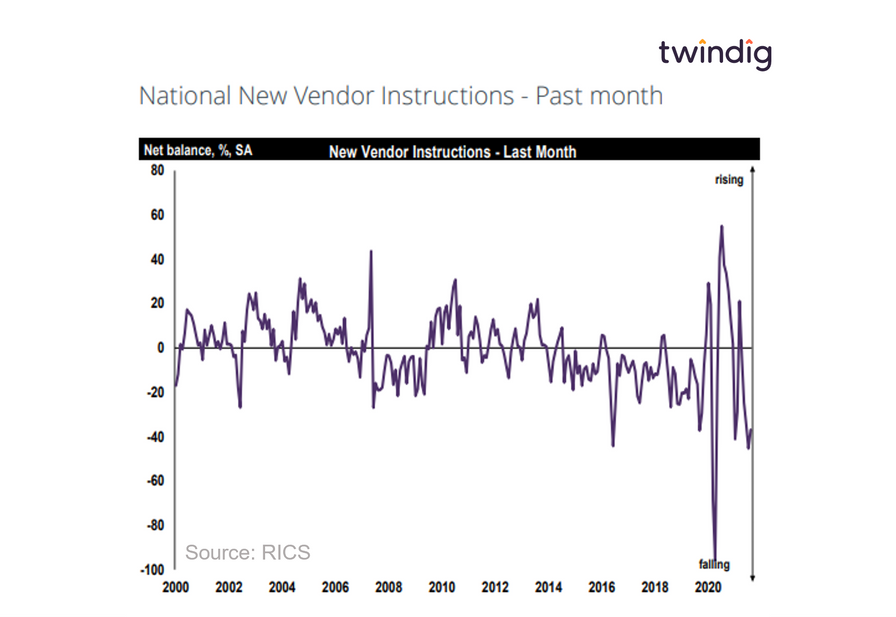 RICS published their UK Residential Market Survey for August 2021 on Thursday this week.
What they said
House prices continue to rise, but the pace of growth is slowing
the supply of homes for sale continues to decline
Home sales slip for a second month
Twindig Take
The August 2021 RICS Residential Survey points to a slight fall in housing market activity during the month. This is to be expected in our view as August is the second month in which the lower stamp duty holiday limit was in force.

However, the RICS members surveyed expect that sales activity will stabilise over the coming months with positive momentum returning on a twelve-month view, suggesting that the stamp duty holiday impact on the UK housing market are temporary.

New buyer enquiries (demand) fell for the second month in a row as did the number of home sales agreed, both of which we view refects the change in stamp duty holiday limits and short term in nature.

Stock levels (the number of homes actively on the market for sale) have been in decline now for eight of the past nine months, according to RICS. These low levels of supply are helping to underpin house prices, and helping house price inflation to remain in positive territory.

Overall RICS members expect house prices to continue to rise over the near term, and a much higher proportion of them see house prices rising on a twelve-month view.
Overall the news is perhaps better for homeowners and home sellers than for estate agents and homebuyers. The former are enjoying the value of their assets rise, the latter are either seeing lower levels of business or having to pay a higher price for the home of their dreams due to a lack of supply.
Subscribe to Market Views